Interested in actionable, data-driven experiments for ecommerce that improve sales action and reduce marketing overhead? We are, too—that's one of the driving forces behind DAR.WIN's development. When used together, many of DAR.WIN's features—like our Customer Exporter, Product Highlight, and Email Embeds—are the perfect solution for Product Optimization.
We're releasing a guided series on how to use DAR.WIN—along with many tools and resources—to develop skills like:
Audience discovery and refinement
Testing product copy and pricing sweet-spots
Tighter ad segmentation to increase click-thru rate and conversion
Contrasting intuition against algorithmic trends - and when both should be leveraged
Introducing new inventory and winning over shoppers
Check out our
Product Optimization Primer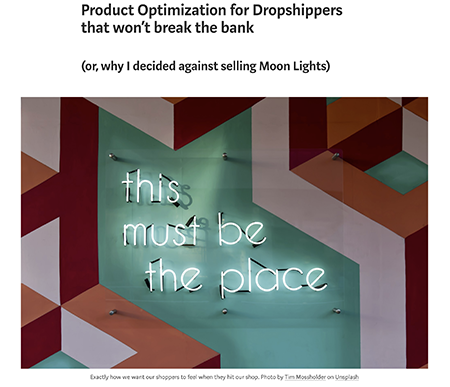 An Excerpt from the Wrap-Up of Product Optimization for Dropshippers Part 1
Not to keep hammering at the same point (but really, what are wrap ups for?), your goal as a dropshipper is to spend less money to sell more items for the highest profit you can generate from those sales. Product Optimization — the process we've outlined where you find the best way to sell your inventory (especially new or trending inventory) for the most money to the most people — is essential to meeting that goal as a store owner. While there are many approaches that might work, our recommendation is that you utilize a machine learning program for large data experiments while saving your money and elbow grease for more refined conclusions that become evident after your broader experimentation.
---
As always, stay tuned to our social media for more upcoming releases and improvements. Be sure to follow us on **Facebook**, **Twitter** and **Medium** for more updates. Don't hesitate to reach out to us at support (a) dar.win. The DAR.WIN Team