Offer the most advanced product recommendations on your webshop and start using DAR.WIN. Using the same technology that allows cars to drive themselves, Machine Learning and Artificial Intelligence, DAR.WIN predicts what products your potential and return customers are interested in. Over time, DAR.WIN learns about your customers and your products to make the best product recommendations possible!
Product Recommendations
DAR.WIN's product recommendations use our proprietary machine learning models to provide the best product recommendations for each visitor of your webshop. Get access to JSON in real-time to style DAR.WIN's product recommendations, or use our Recommendations Widget to put DAR.WIN's product recommendations right onto your webshop.
DAR.WIN's product recommendations are fully customizable to your site's look and feel. Control the layout on desktop, tablet, and mobile layouts. The dashboard widget allows you to preview the recommendations in real-time, and it's built to allow developers to easily add their own flourish as well!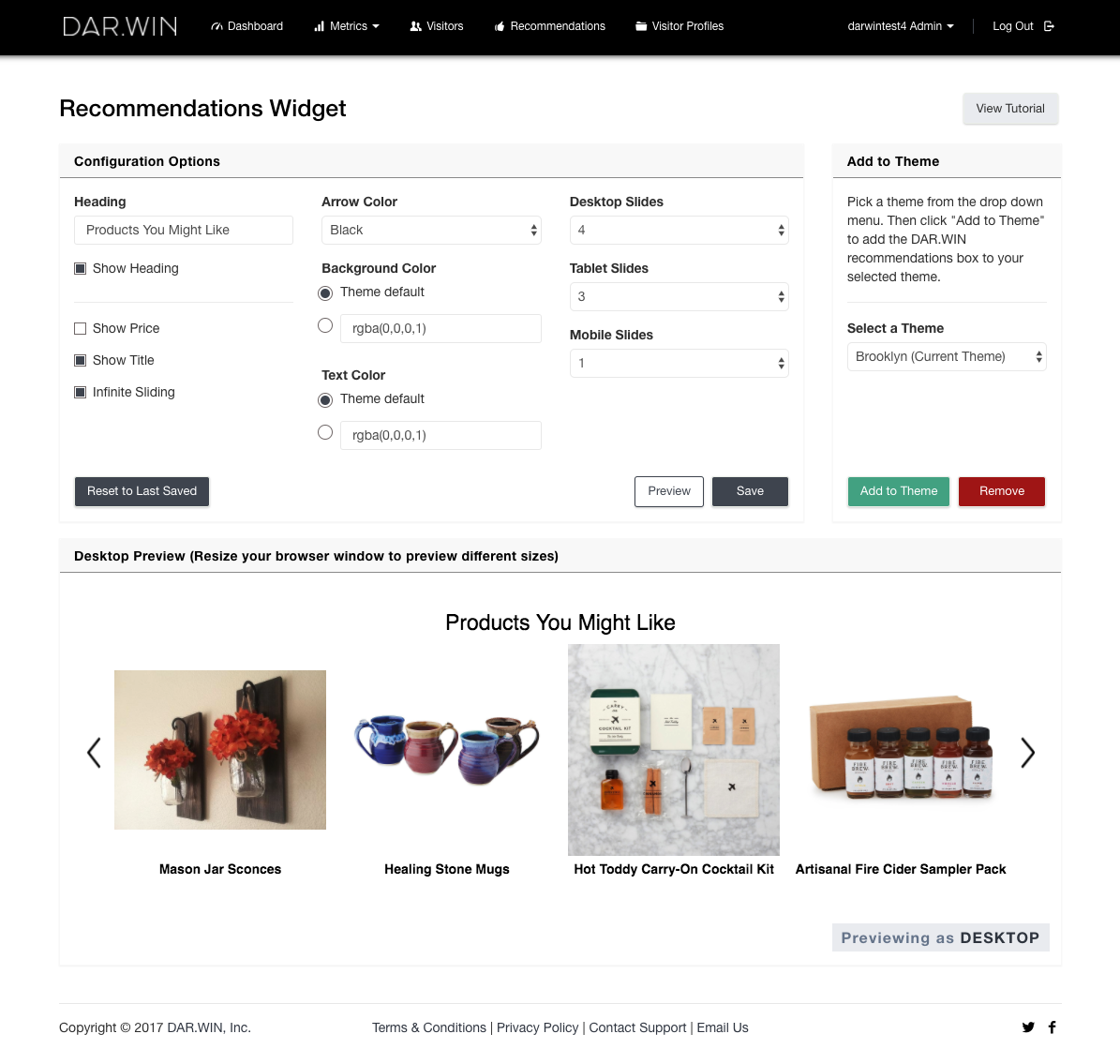 Visitor Profiles
Imagine automatically customizing your webshop based upon who is visiting it! DAR.WIN helps you do just that! In the DAR.WIN app, define all sorts of different visitor profiles, for example:
"Bracelet", "Catalog", for visitors who view Bracelets or Catalogs
"Facebook", "Instagram", for visitors who come from Facebook or from Instagram
"Mobile", for visitors who are on a mobile device
DAR.WIN uses visitor profiles that you define along with our own custom formulated visitor and product profiles to help train machine learning models. These proprietary machine learning models are used to make more personalized product recommendations to your customers through our Recommendations Widget!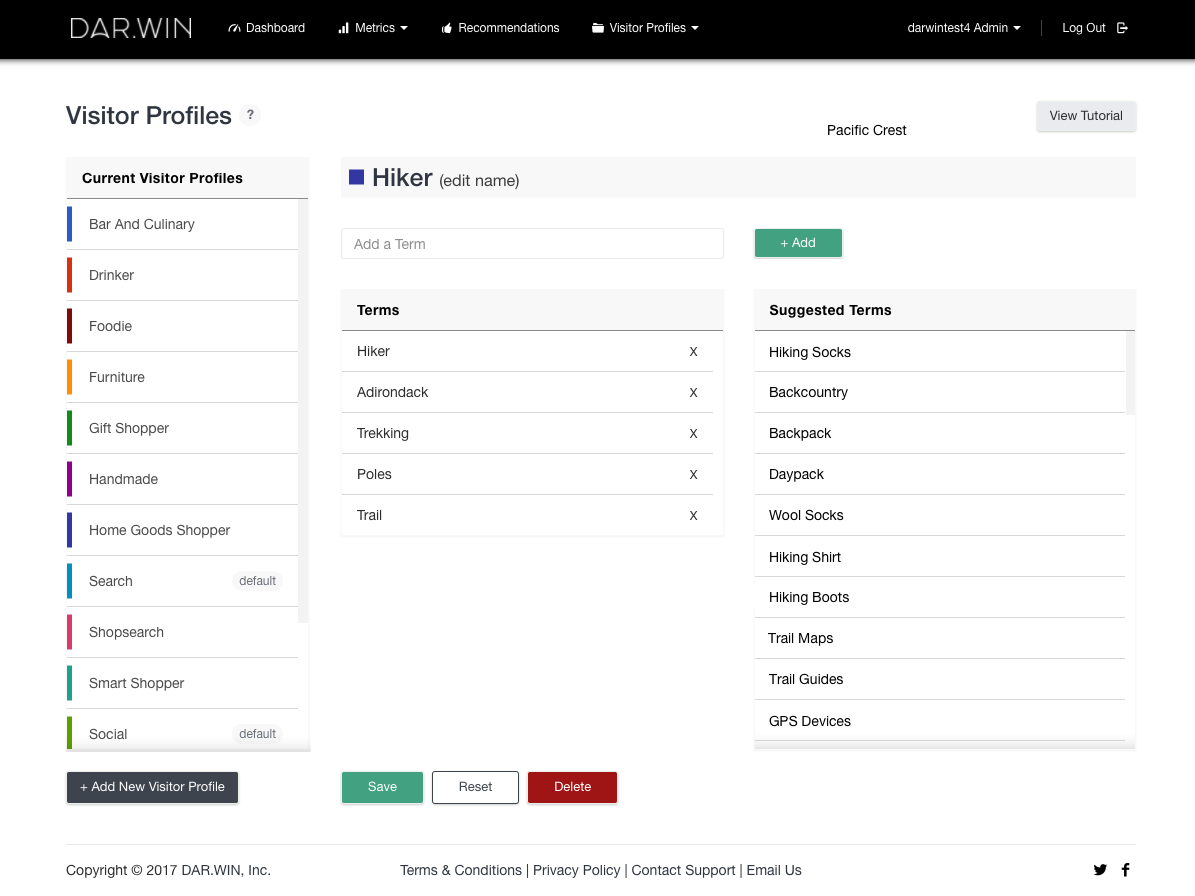 Visualize the number of visitors for each visitor profile. Peer into the behavior of visitors by seeing where they are coming from, and what products they are viewing.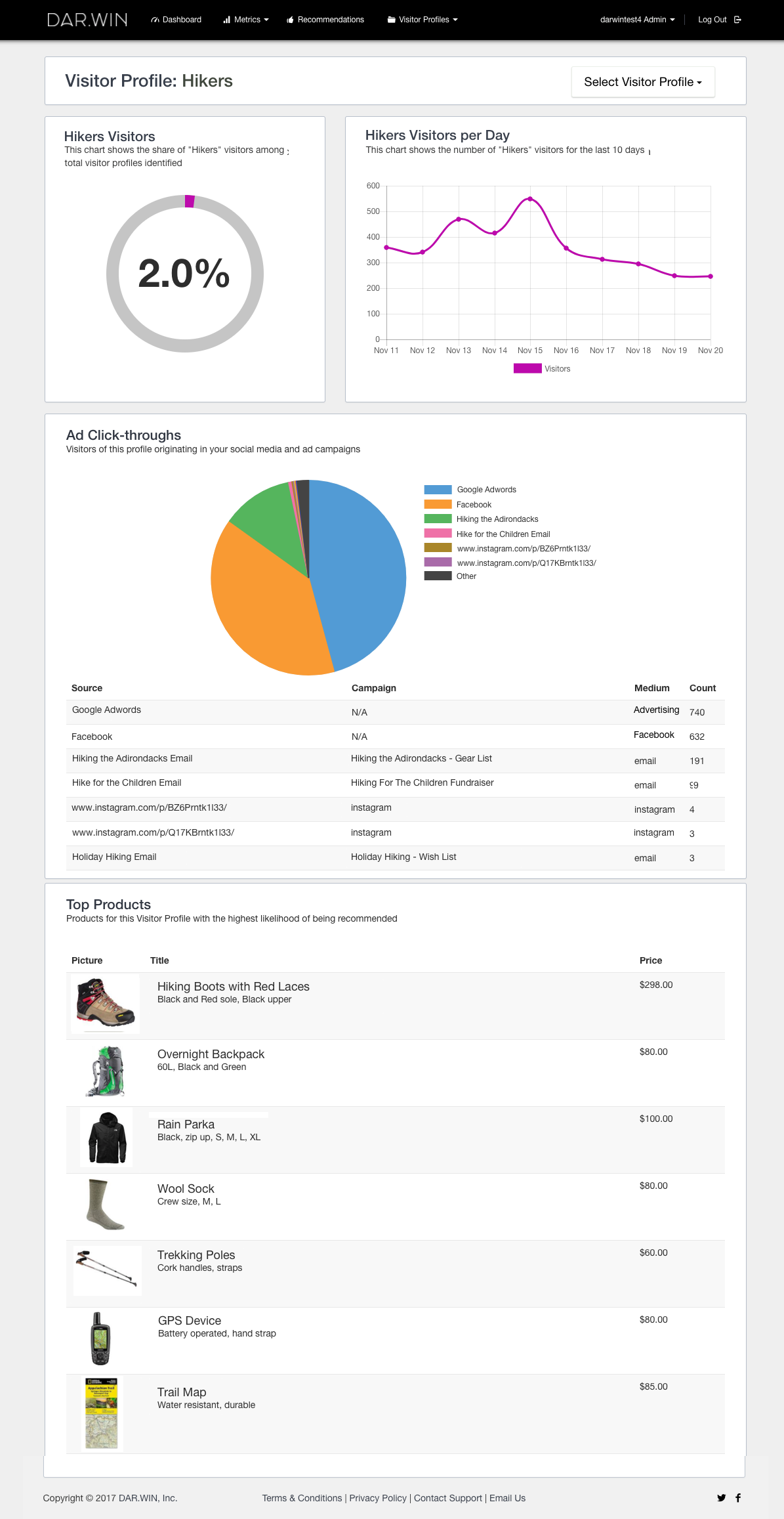 Powerful Machine Learning Tools
DAR.WIN collects data from your site and uses it to build machine learning models specifically geared towards your content and users. As more data is collected in real-time, DAR.WIN retrains itself automatically to improve its accuracy and effectiveness in predicting user behavior and intent.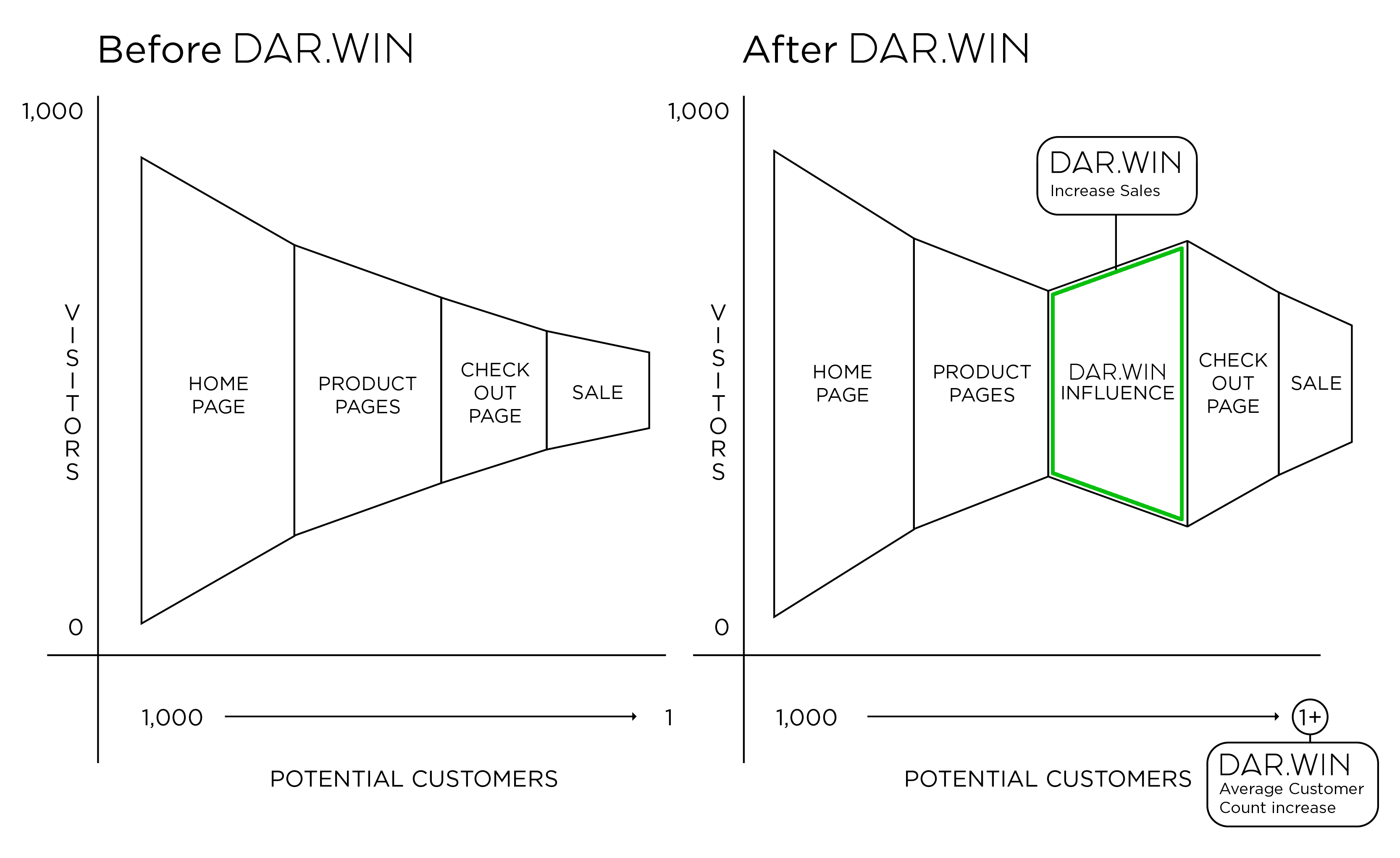 The Dashboard
All users get access to a secure, personalized dashboard, where they can view daily and historic metrics on the performance of their webshop.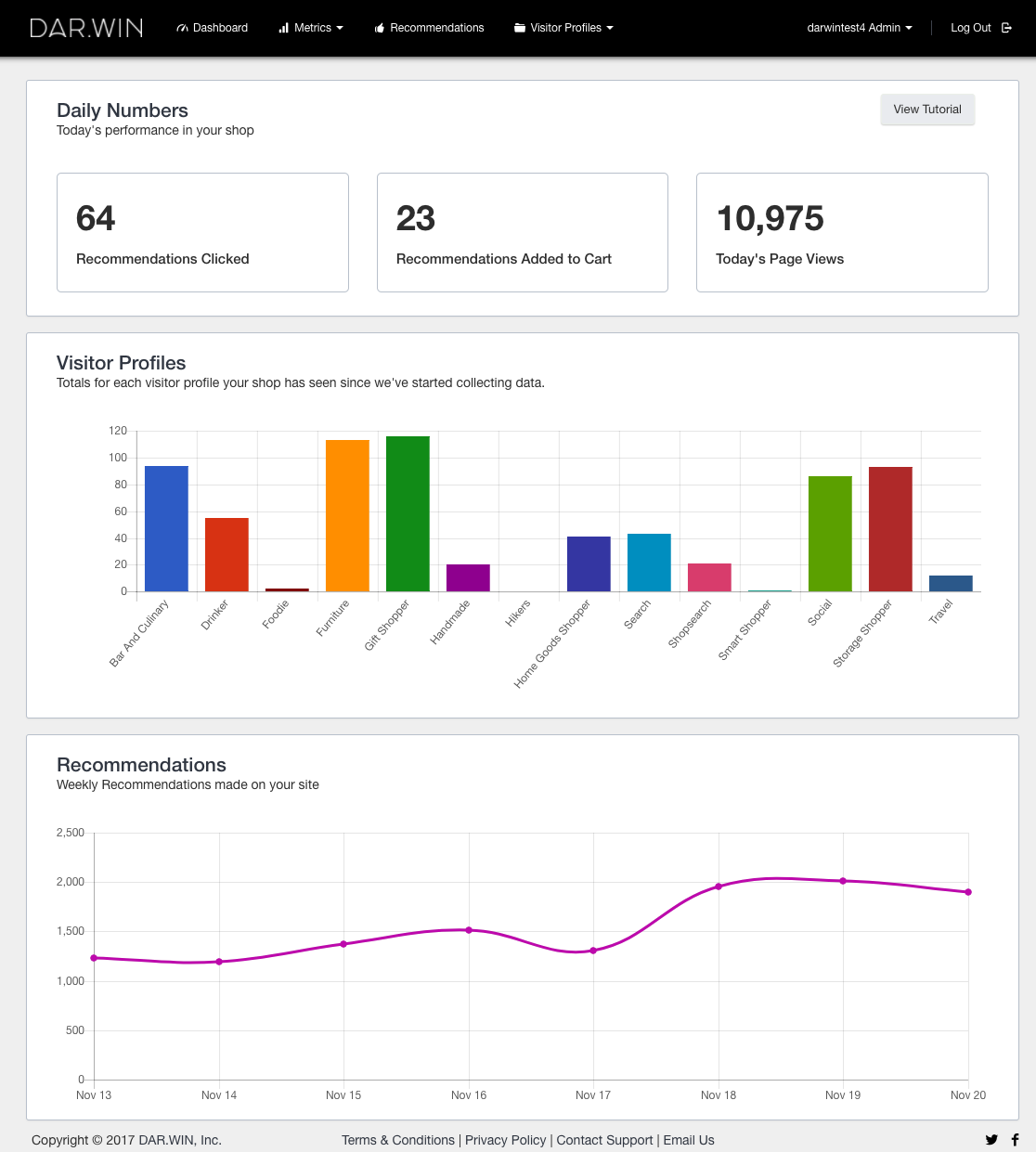 Visualize DAR.WIN's Influence
You can view the daily impact of DAR.WIN on your users' behaviors. You'll know how many DAR.WIN recommendations are being clicked on by your customers, how many are added to cart, and how many are purchased.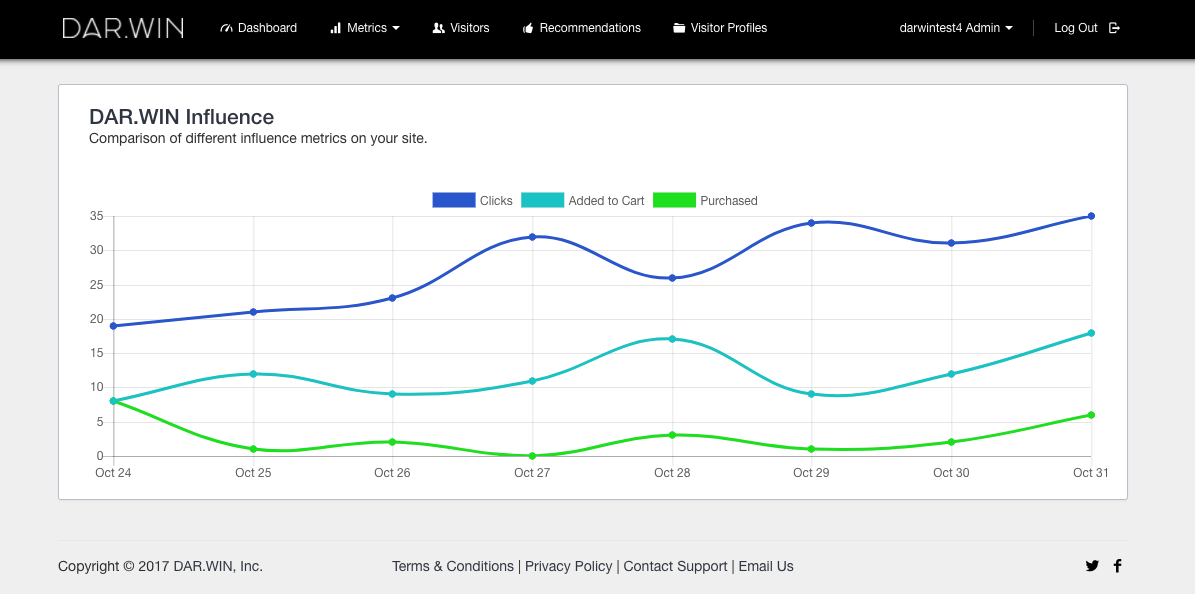 Add to Cart Metric
Track key Add to Cart metrics that are crucial to your business. Measure how DAR.WIN is having a positive impact over time on your webshop's performance.