Target each shopper on every page of your shop with perfectly personalized and attractively rendered product recommendations in a custom sticky footer that updates in real time.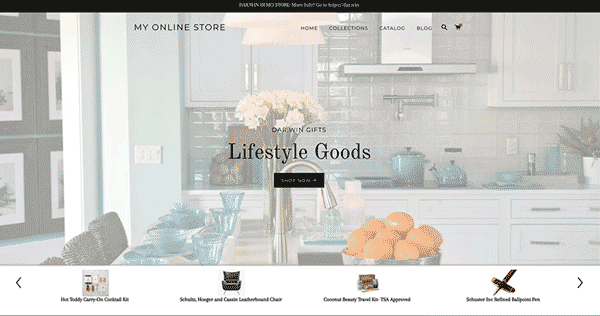 Product Recommendations are DAR.WIN's forte, and we've spent a lot of time thinking about not only how to make the recommendations truly accurate and effective, but also how we can increase shopper interaction with those recommendations in the first place.
That's why we've developed DAR.WIN Footer Recommendations -
a new core feature of our platform.
---
How are Footer Recommendations different than Standard Recommendations?
Recommendations usually live on Product Pages - DAR.WIN's are no different. And this makes sense - it's easy to make product associations based on the currently active page, and a visitor on a product page is more likely to be in a purchasing mood than someone there just to read your blog and look at some nice pictures.
But keeping your Recommendations locked into this one location might be losing you some potential business:
If a shopper's connection is slow, clicking from page to page and allowing each to fully load might be time consuming
If you have long product descriptions, lots of product images in your gallery, or other sales widgets in play, your recommendations might be pushed far down on the page
If a shopper hasn't visited your site before, they may might not know where to begin, or even how to find your products
DAR.WIN Footer Recommendations break powerful cross-sale opportunities out of Product Page Jail.
---
By combining the specificity of DAR.WIN's Recommendation Engine (profiling visitors based on interactions to show them products they're most likely to buy) with an optional, lightweight widget that appears on non-Product pages, DAR.WIN Footer Recommendations increase your promotional coverage dramatically.
With Footer Recommendations, your users now have a tremendous amount of opportunity to interact with your inventory, whether they're on a home page, a blog post, a contact page, or literally any other page of your domain.
If DAR.WIN is a digital personal shopper, think of DAR.WIN Footer Recommendations as the personalized store aisle that travels with each customer as they browse your site. Put the power of that personalization to use today with DAR.WIN.