The DAR.WIN Team has been hard at work on changes and improvements on all aspects of the app.
Most notable is the new support of embedded recommendations in your email campaigns. The Recommendations link in the nav is now a dropdown, which lets you select either the standard widget or Emails.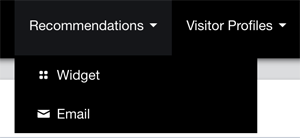 On this new page, you can generate recommendations for a specific visitor profile, then copy and paste them into your template. We built this with MailChimp in mind, so the recommendations should automatically conform to the design of your email campaign. If you need to customize them further, we added a couple of CSS classes which you can modify to your liking.
If users click on any of the recommendations in your email, we will track the click and associate it to the email campaign automatically. This will help you see how well the customers you email correlate to your visitor profiles.
When you look at the App, you'll notice that we're continually improving the interface. DAR.WIN is committed to making the best products and we will keep making small improvements regularly. Under the hood, we've been working on some major performance upgrades, making our product recommendations, and app super fast. DAR.WIN is faster and more reliable than ever.
As always, we welcome any feedback you may have on your experience this far. Don't hesitate to reach out to us at support (a) dar.win.
The DAR.WIN Team